A Seesaw's Winter Wonderland
Back
Posted on December 19 by seesawadmin
December 2018
Abundant in rocky terrain and dense forests filled with maple, birch ash and pine trees, the small town of Peru, Vermont struggled to find its niche for centuries—that is, until the development of "Bromley Run" in 1933. The run was simple, cut by members of the Civilian Conservation Corps at a time when the local logging industry faltered. The crumbling of that particular piece of Peru's economy had also inspired Russian logger Ivan Sesow to erect his Wonderview Log Pavilion, a dancehall and speakeasy, which roared with activity during Prohibition and then fell on hard times with the Great Depression. It wasn't until the construction of Bromley Run, however, that the establishment really began to pick up speed. Visitors from New York City and Boston began to flock to the new ski mountain that would one day become the Big Brom we now know and love, and the Pavilion, now Seesaw's, thrived right alongside it. There was even a trail down from Bromley's Blue Ribbon Quad that snaked through the trees down to Johnny Seesaw's, referred to as the "Cow Goose Schuss." High profile guests, including Charles Lindbergh, frequented Johnny Seesaw's for après-ski drinks around the fireplace or in the seducerie, where countless marriage proposals are said to have been offered. The lodge even witnessed the founding of the famed 10th Mountain Division, daring mountaineers who crisscrossed the alps in winter warding off German invasions during World War II. It was only because of Seesaw's High Mountain Farm—which produced wartime rations of milk, eggs, and meat—that both the restaurant and lodge (then owned by the Parrish and deSchweinitz families) and Bromley Mountain Ski Resort were able to remain open throughout the war. Due to the gas rationing in effect during the war, ski trains brought tourists from the cities to the wintery hillsides from Manchester, and then on a final short trip up to the small, mountain town of Peru, Vermont. Despite the bumpy dirt roads covered in ice and snow, made even more treacherous without the modern-day plow truck, visitors were not deterred. Bromley and Seesaw's were the place to be at the height of the 1960's skiing boom and nothing would prevent loyalists from getting to the lodge, so they packed emergency shovels in their cars and, at times, ventured through the night.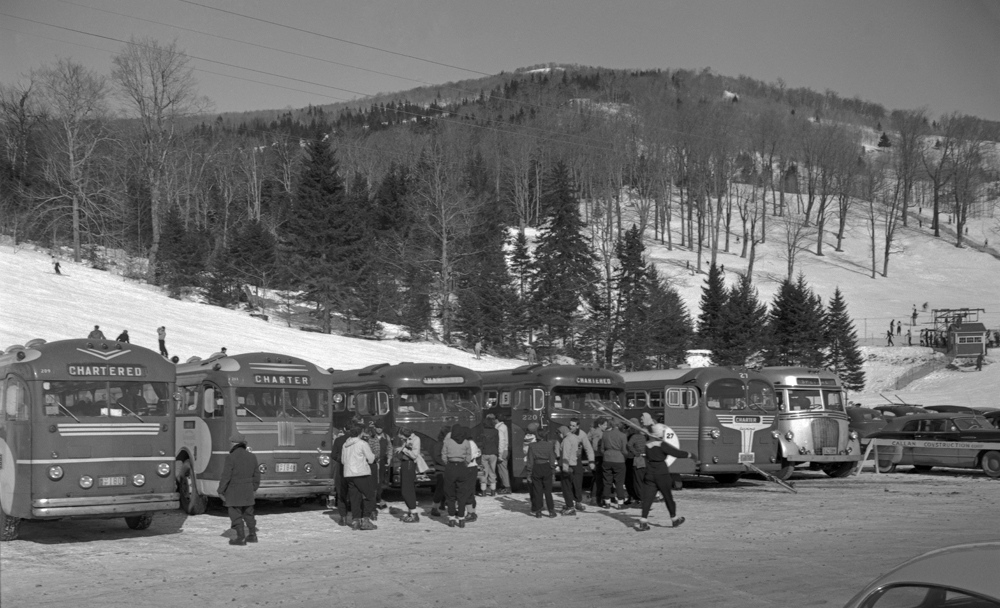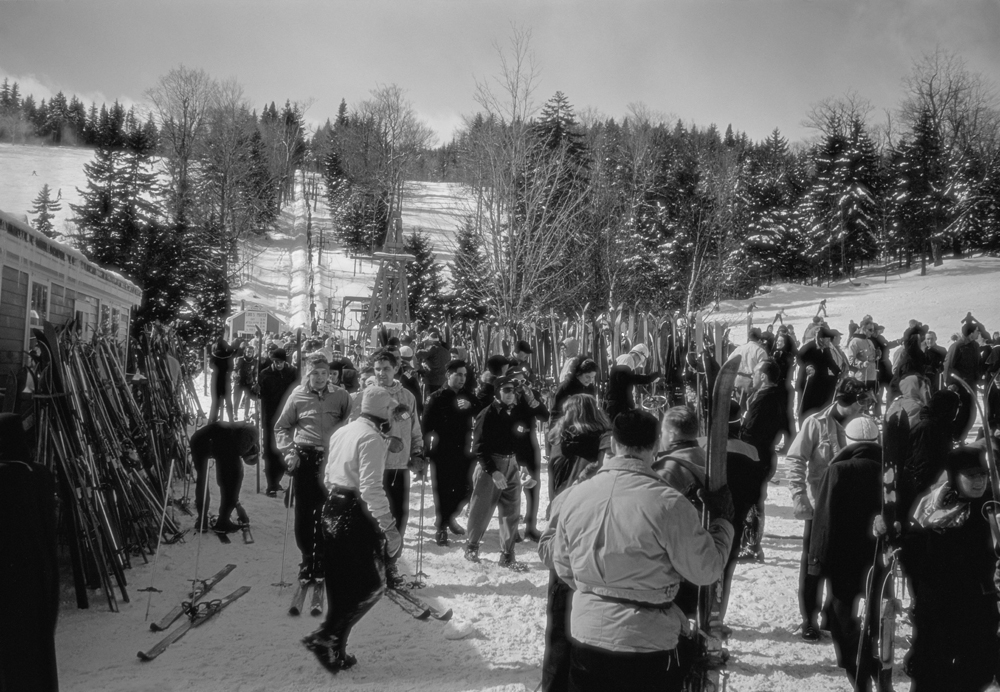 Today, that community spirit and mountain mindedness is still intact at Seesaw's Lodge. winter in Vermont is deeply tied to the local history, economy, and culture of the area and offers an experience unlike any other. So, pack some warm layers, set a schedule, and make your way to our very own Peru, Vermont this winter and live a piece of history!
Our Recommendations
Whether you're an old-pro or a novice skier, plan to spend at least some of your trip at one of Southern Vermont's spectacular ski mountains. With three peaks just minutes from Seesaw's Lodge, you'll find options for everyone, and our next-door neighbor
Bromley
is a great place to start. With family-friendly trails and a progressive terrain park, the mountain is perfect for those with kids in tow. Snag first chair at
Stratton
to enjoy more than 97 trails—or the resort's bustling village, if shopping is more your style—and schedule an afternoon at Londonderry's
Magic Mountain
for an authentic, small-town skiing experience, picturesque lift rides, and tubing fun.
All three mountains are beloved by snowboarders as well, and while you're here in the heart of Peru, consider spending an afternoon with the folks at
Powderjet Snowboards
to shop for a new hand-crafted board, or design your own! And if you enjoy skiing up the hills too, schedule a session at Peru's
Wild Wings Ski & Yoga
to fly through the trees on thousands of acres of groomed trails on a pair of cross-country skis. Sign up for one of owner Tracy's phenomenal yoga classes to craft the perfect winter itinerary, and hit Peru's sections of the
Catamount Trail
if backcountry skiing or snowshoeing are more your thing. For the snowshoeing type, you can drop onto the Appalachian Trail which runs over the top of Bromley and head to Styles peak or Peru Peak (both more than 3,300 feet high) and, for those with an adventurous spirit, also venture out into the hinterland to
Griffith Lake
.
Before the day begins, however, you'll want to fuel up with a phenomenal breakfast sandwich from
Bromley Market
(order it on the Portuguese muffin, and we promise you won't be disappointed!), walking distance from Seesaw's Lodge. Table service your preference? Head around the corner to
J.J. Hapgood's General Store and Eatery
for impeccable cuisine and fresh pressed juice alongside a plethora of Vermont souvenirs and goodies to bring back home. Though the mountains have become more technologically advanced, the après-ski experience we've carefully crafted at Seesaw's Lodge remains stuck in time just as you would imagine: a classic open fire outside by the warming hut and pond with hot rum toddies and Vermont beer flowing. If you make it off of the mountain in time, don't miss the breathtaking sunset that can be seen right from our front door—standing against the backdrop of Bromley, the panoramic views of both Stratton and Magic are even more stunning in the wintertime.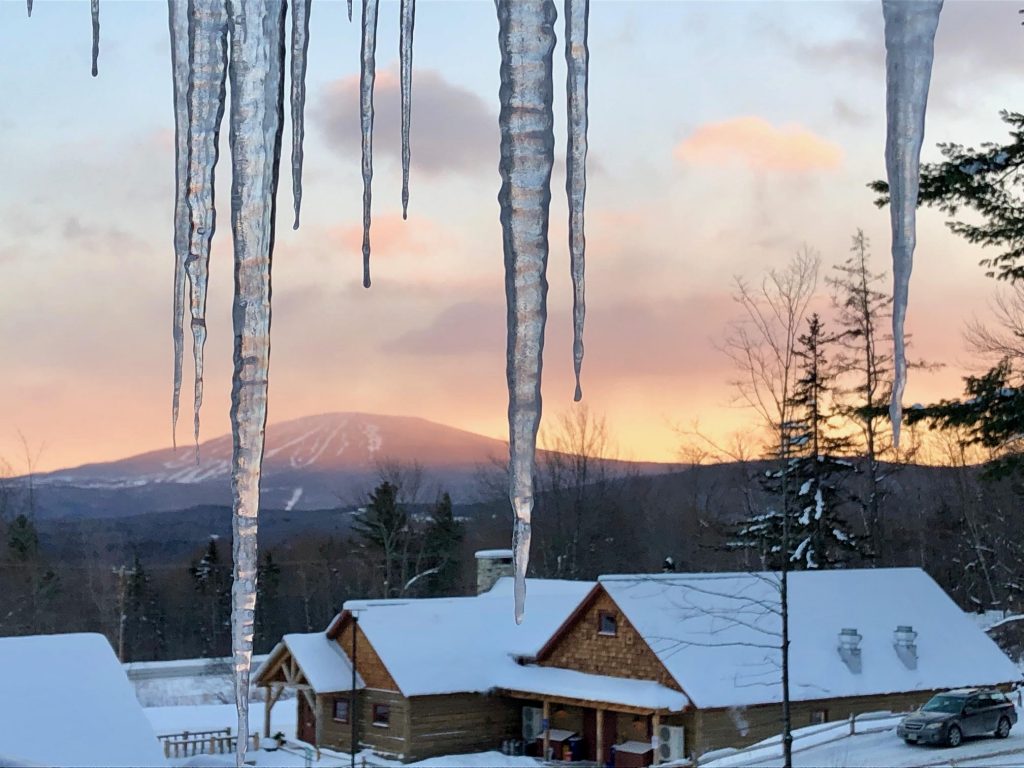 Then roll into dinner at Johnny Seesaw's and warm up by the same fireplace with the copper cutout hood that has watched over generations and fed the soul, reveling in the stories that abound from a day on the mountain, growing into tall tales by late evening. Later, head down to the game room for classic arcade games, pinball, shuffleboard, and pool before you head up to the lodge or the cabins to cap off the day.
While Bromley Run looks a little different today than it did in 1933, the spirit that has drawn generations of skiers to Seesaw's hasn't changed a bit.